Thales recently announced the launch of the payShield Cloud HSM service, making it easier and more flexible for payment HSMs to migrate to the cloud. Our team at Prime Factors had the opportunity to be among the first to successfully test the new HSM service with our Bank Card Security System (BCSS) to ensure flexibility and full functionality of payShield in the cloud for BCSS customers. This latest collaboration not only marks another milestone in the joint BCSS and payShield offering but is also a natural extension of the ongoing collaboration between Thales and Prime Factors that goes back nearly three decades.
A great number of financial services companies buy off-the-shelf, turn-key payment applications, and we know that Thales has many great partners, many of which I worked with directly during my tenure at Thales, that deliver these types of solutions. But when it comes to organizations that want to build their own bespoke payment applications, BCSS can really help. In addition to making it faster and easier to implement and manage payShield HSMs, BCSS software also complements the hardware with key management, access controls, and audit logging and reporting for compliance. One could see this, in effect, as super-charging the payShield.
Viewing the partnership through a unique lens
For thirty years, Thales and Prime Factors have worked with joint customers to improve their payment security solutions — expanding globally across new markets, new deployment environments and operating systems, while supporting new technologies and features that help simplify payment security and meet evolving industry standards. Today, many of the world's leading financial services companies across six continents trust payShield HSMs and BCSS software to secure their bespoke payment card issuance and acquiring applications.
I have had a unique vantage point for the relationship between Prime Factors and Thales, having spent years in various roles related to technology and payments for Thales (and its precursor Racal Datacom) and now here, leading product development and services at Prime Factors. Prime Factors first came to my attention when nearly every bank I visited across Latin America in the latter half of the 1990s was working with a Prime Factors payment solution – a solution that was soon being integrated with our payment HSM. I recall facilitating Thales' first formal Alliance Agreement with Prime Factors, leading collaborations between Thales and Prime Factors' technical teams on complementary advances in our respective products. Today, our Bank Card Security System exclusively supports the Thales payShield HSM platform – a solution that continues to be the number one payment HSM on the market.
The evolution of our collaboration
The cooperation between Thales and Prime Factors has evolved over the years, and to get a full sense of the impact, let's take it back – way back. Prime Factors started in payment security software solutions in the mid-1980s, before HSMs were required by the Payment Card Industry (PCI). By the end of that decade, Thales (then Guardata) entered the market with the launch of their first payment HSM offering, the RG6000. Prime Factors started integrating this hardware solution with its PIN Management System at large North American financial services companies in the early 1990s. By the late 1990s, Prime Factors launched BCSS, a more modern payment security middleware, to its global customer base and began to collaborate more intimately with the Thales payments team.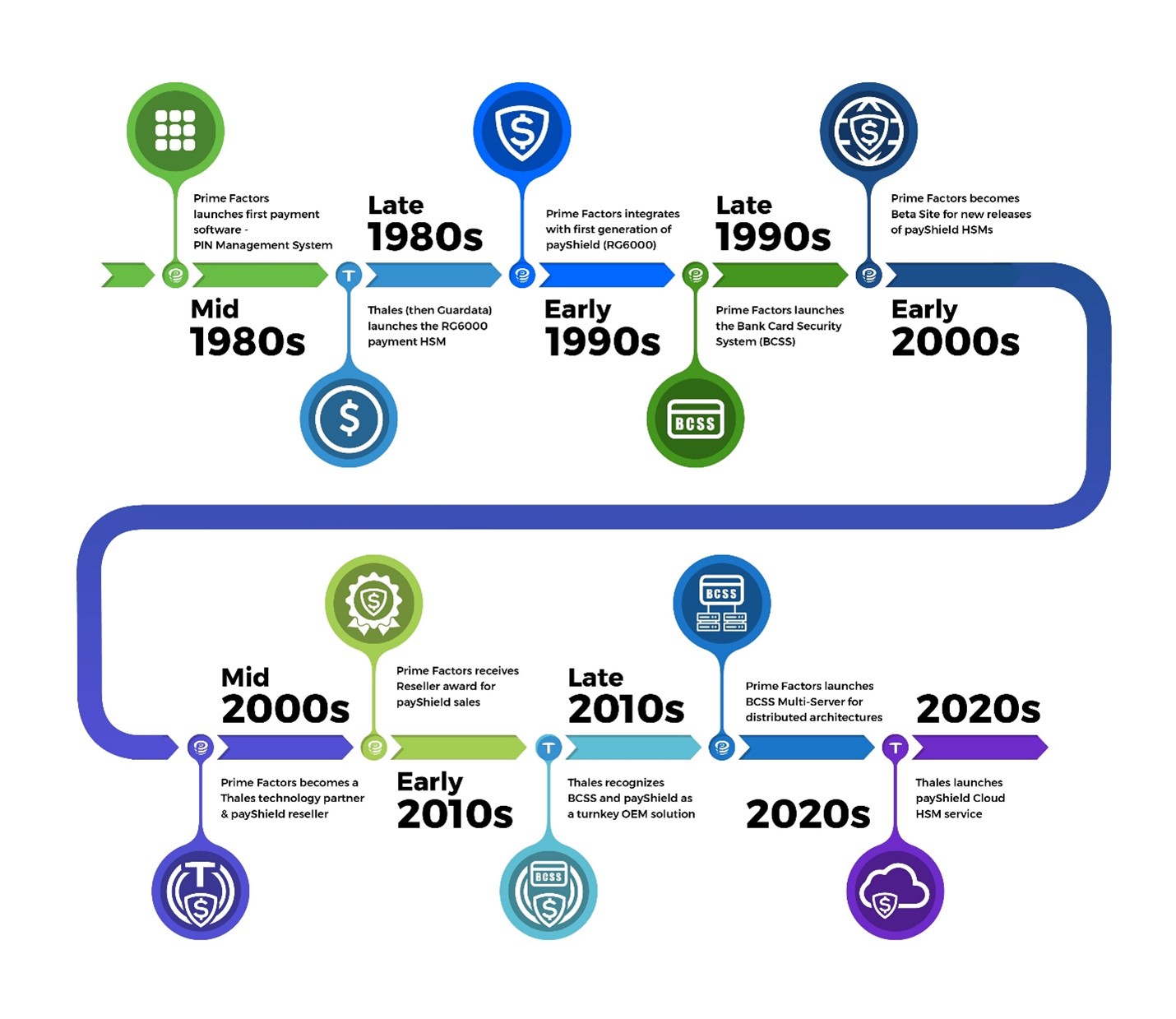 Just before the turn of the century, I led a development team that worked closely with Prime Factors and one of the world's largest financial services companies to test new functionality related to card issuance in the payShield. Shortly thereafter, Thales began testing a new release of the platform, the HSM 8000, and tapped Prime Factors for support in pre-market technical testing of the solution as a Beta Site, a role which Prime Factors has continued to serve for the payShield 9000, payShield 10K, and the payShield Cloud HSM service.
Around the time HSM 8000 reached its end of life, Prime Factors began reselling the payShield product line. Henry Cheli, now the President of Prime Factors, presented the Prime Factors team with a reseller award on behalf of Thales for sales of the payShield 9000. By the late 2010s, Prime Factors was providing Level 1 technical support to payShield customers, and Thales began to formally recognize BCSS and payShield as a turn-key OEM solution – further expanding collaboration to the corners of the globe, often through joint local resellers.
Working together to support the needs of our customers
Omar Tucker, Associate VP of Client Services at Thales recently commented on our relationship and expertise: "Prime Factors has an incredibly deep understanding of the payments markets in general and has leveraged Thales payShield HSM to support their payments application go-to-market solutions," he said. "Over the years, we have worked with the Prime Factors team and observed first-hand the world-class support they deliver. Our joint customers using the Thales payShield HSM with the Prime Factors enterprise payment application have raved about the ease of implementation and usage."
Thales and Prime Factors have continued to collaborate, influencing each other's product features, serving joint customers, streamlining payment security across environments, and driving a more robust product experience for those scaling their payment security. Recently, Prime Factors launched a version of BCSS designed for multi-server environments, ideally suited for the cloud and hybrid-cloud environments. This solution, along with payShield Cloud HSM service, is uniquely positioned to help support ongoing migration to cloud environments for applications and hardware – a common trend in the financial services space today. We have accomplished much together over these many years, the electronic payments world continues to evolve, and we look forward to continued collaboration for years to come.