Companies that sell complex software are searching for pricing solutions that satisfy multiple requirements while remaining easy to navigate.
 
Token Licensing
Software products are increasingly complex. Over the past ten years, countless companies have transitioned from offering one product with a handful of features to offering software suites with many products and countless features.
The customer is also more complex. Customer values and perceptions are constantly changing, as are their spending patterns.
Updating a product pricing strategy requires juggling nuanced products, savvy customers, and fluctuating market demands. The result is pricing configurations that are hard to sell and even harder to operationalize.
Yet the reality is software providers, purchasers, and users are better off with transparent, straightforward pricing. The simpler organizations can make their pricing strategy, the more efficient they become and the more effective the results.
How can software providers remove pricing complexities and start selling more efficiently?
Enter token licensing. Token licensing isn't a new concept; it's a proven and successful licensing method used in specific applications for many years. What is new is token licensing in the context of today's complex business landscape. Token licensing is a powerful tool that can make multi-layered software offerings simpler to buy and use.
What is Token Licensing?
Token Licensing is a solution for vendors looking to simplify the way they price and package while providing ultimate end customer flexibility.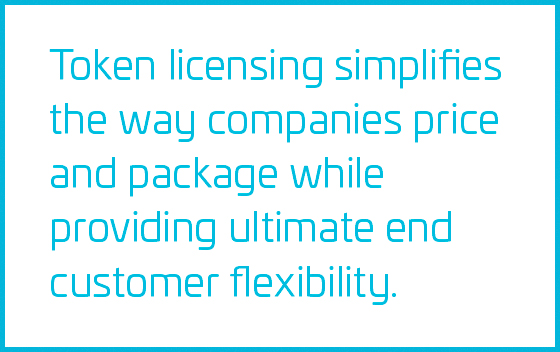 It's based on an end customer purchasing tokens, which can be used as credits to be spent on a suite of products, modules, or features.
Typically, the software is sold through software licenses. A customer needs ten instances of a particular software solution; they buy ten licenses for the software.
But what happens when a customer needs five cases of the solution with standard features, three with advanced features, and two with other support features. All of a sudden, the purchase isn't so simple.
Token licensing to the rescue.
How does token licensing work?
Instead of product licenses, token licensing is a flexible licensing mechanism that gives users access to tokens. Think of good-old arcade tokens. Product and features are assigned a value-driven token price. So if you need a high-value feature license — e.g., laser tag in the arcade — it will require more tokens than the standard feature license — e.g., Mario Kart racing game.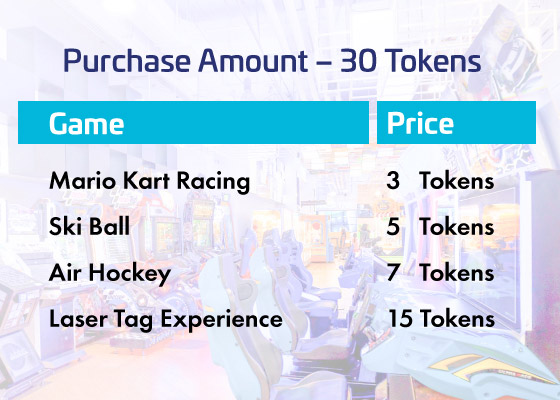 Let's bring this back to the B2B software world.
With a conventional quantity-based license model, the customer buys a fixed number of products or features for a set price.
A B2B buyer may purchase the following: Product A, Quantity: 10; Product B, Quantity: 15; Product C, Quantity: 5.
This type of pricing is a fixed agreement. Software licenses enforce the purchased quantity. Product and feature limits are usually robustly enforced since they represent the customer's purchase.
If the customer wants to change the quantities or the package, they usually need to return and redeploy licenses. Sometimes, implementing a change triggers renewed price negotiations.
Instead of helping customers use the products and features most valuable to them, the customer experience is jagged and time-consuming.
Token licensing redefines how a customer buys a product. Instead of licensing products, features are tokenized. Instead of customers buying products suits, they buy tokens.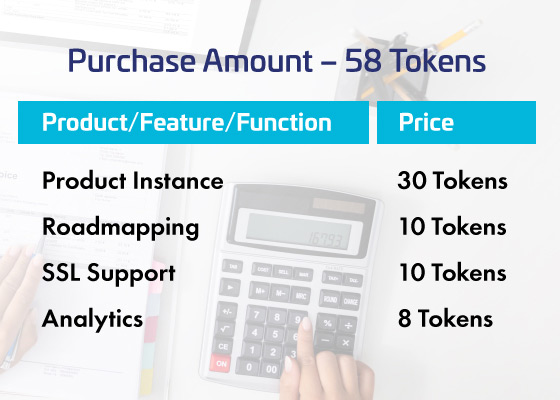 Let's make this practical. With token licensing, you assign different token values to the features within your product. Then, you allow customers to purchase a set number of tokens, which they can deploy as they need.
Tokenization becomes even more powerful when combined with floating licenses shared among team members.
The combination of floating licensing plus tokenized features means users only consume licenses when they need them. The end users can deploy the products in any combination they see fit, and they can rebalance and redistribute as their needs change. When users don't need to access the software anymore, they return them to a license manager for others to use. It's completely flexible.
Token licensing creates tremendous value when purchasing software for long-running, complex projects. Different features and modules are needed as a project advances, while others become redundant. Instead of redeploying software or buying new licenses, the tokens allow customers to adjust on demand. Customers can quickly return tokens to the "token pool" and reallocate them. Customers can readjust their product usage at will thanks to this inherent flexibility.
Implementing token licensing
The most common way to implement token licensing is to have a dedicated token feature representing a generic currency across your entire product portfolio. The purchased quantities are associated with the token feature — all of your actual product features are uncounted.
When your applications check out a product feature, they simultaneously check out the tokens feature, incorporating the token price embedded within the product feature. Product features are linked to token prices. When a feature is activated, tokens are paid out. The goal is to implement this generically so that the token logic is license-based and not application-specific. For more info on how token licensing is implemented, reach out to our pricing and packaging experts, and we'll be happy to explore how token licensing could help you improve your pricing strategy.
What are the benefits of token licensing?
Token licensing can significantly improve revenue results.
But that's not all.

Offering token licensing fundamentally shows that you're dedicated to customer satisfaction. Customers configure feature usage independently, ensuring high-value product engagement.
What's more, token licensing makes purchasing engagements easier. Think back to the arcade analogy. Arcade establishments figured this out a long time ago. Visitors have an easier time opening their wallets to buy tokens instead of individual games and experiences.
The same concept transfers to B2B sales. What's easier to sell? Dynamic and flexible token pools or long-term fixed agreements? Token licensing will likely make it easier to capture complex sales.
Pricing that delights
If your goal is to price according to perceived value, nothing is more important than ensuring your customers are paying for — and using — exactly what they need.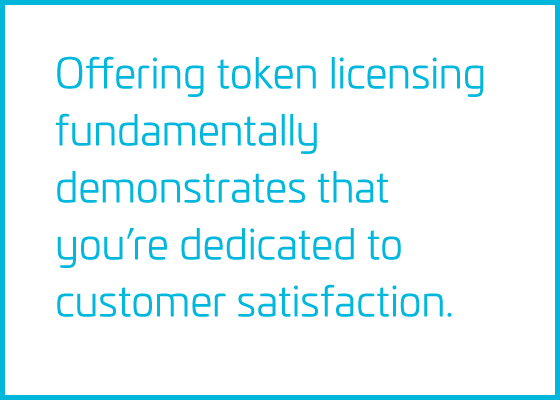 Modern B2B software products can be highly complex, often with a wide range of supplemental products, modules, and features. With token licensing, customers can break out of predetermined product packages. Nothing says "value for money" better than the choice to shelve features that aren't being used and redirect tokens towards a better solution.
Improve sales team results
Another benefit is that token licensing simplifies the sales cycle.
In typical scenarios, salespeople need to know exactly what the customer will use upfront to ensure they are selling the right package.
The sales team has to ask questions like: What products and features will you need? How do you want the combinations and packages to look? What quantities do you need for each module/feature? How many instances will be connected? How many will be offline?
Long discussions ensue, often with other departments, delaying the deal. The purchaser might choose to play it safe and buy as little as possible because they don't want to overestimate their needs and waste funds.
Token-based licensing is a complete paradigm shift. The only requirement for a sale is to define how many tokens to buy.
Sales don't have to make buyers decide which elements of the solution end-users will need. With flexibility as given, buyers can more confidently decide on a number of tokens. It's up to the implementation teams and end-users to budget their token usage at deployment time.

Token licensing makes it easy for your customers to buy from you. The sales process is straightforward with token licensing and dramatically reduces customer risk.
Embracing Token Licensing
Token licensing is simple, logical, and lucrative. Given its advantages, it has the potential to become a leading price model for today's enterprise SaaS and on-premises software-driven organizations.
Start addressing your business challenges today
If you're ready to take a new strategic approach to your pricing, token licensing should be on your radar. Our teams here at Thales SM are equipped with the necessary experience and technological solutions to help you accelerate your business. We work with leading companies already investing significantly in token licensing and have seen firsthand how it can transform businesses.