White House Executive Order on Improving the Nation's Cybersecurity and Protecting Federal Government Networks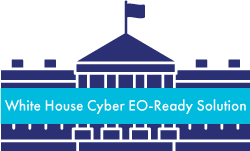 On May 12, 2021, President Biden signed an Executive Order to improve the nation's cybersecurity and protect federal government networks. In the order it stated "Recent cybersecurity incidents such as SolarWinds, Microsoft Exchange, and the Colonial Pipeline incident are a sobering reminder that U.S. public and private sector entities increasingly face sophisticated malicious cyber activity from both nation-state actors and cyber criminals. These incidents share commonalities, including insufficient cybersecurity defenses that leave public and private sector entities more vulnerable to incidents." Two key areas of focus from the Executive Order mandate Federal agencies to implement multi-factor authentication and encryption for data at rest and in motion.
Modernize and Implement Stronger Cybersecurity Standards in the Federal Government
The Executive Order helps move the Federal government to secure cloud services and a zero-trust architecture, and mandates deployment of multi-factor authentication and encryption within 180 days of the order. The Federal government must lead the way and increase its adoption of security best practices, including by employing a zero-trust security model, accelerating movement to secure cloud services, and consistently deploying foundational security tools such as multi-factor authentication and encryption.
Improve Software Supply Chain Security
The Executive Order will also improve the security of software by establishing baseline security standards for development of software sold to the government, including requiring developers to maintain greater visibility into their software and making security data publicly available.
Learn how Thales solutions address the requirements outlined in the Executive Order including:
Modernize and Implement Stronger Cybersecurity in the Federal Government
Adopt Security Best Practices
Encrypt data at rest and in transit
Employ multi-factor authentication
Secure cloud services
Advance towards zero trust architecture
Enhance Software Supply Chain Security
Protect integrity of critical software that performs functions critical to trust
Employ encryption of data