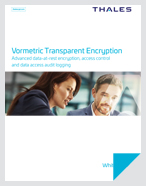 Vormetric Transparent Encryption Architecture - White Paper
Just Imagine…Real Security Without Impacting Operations
Download The Vormetric Transparent Encryption Architecture White Paper
Today's IT and security organizations need to continue to scale their capabilities. They need to employ safeguards around larger volumes of sensitive data. They have to guard against more persistent and sophisticated threats, and they must establish these safeguards in more places. To address these expanding requirements, leading enterprises and government agencies rely on Vormetric Transparent Encryption.
This paper offers a detailed look at the capabilities and the architecture of the Vormetric Transparent Encryption.
Complete this form to download the white paper now.
If you have immediate questions, email us at sales@thalesesec.net or call us at +1-888-267-3732