Meet Thales Where the World Talks Security!
Join us at RSA Conference 2023 for our newest technology demonstrations on data security, customer and workforce identity;
customer and partner presentations; latest integrations; and one-on-one conversations with Thales experts.
Meet us at Booth #N-5369
Find us at Expo Floor Location.
To get a free Expo Pass, enter the code 54STHALESXP when you REGISTER.
For a Full Conference pass, enter the code 52FCDTHALES to get a $150 off the current Full Conference Pass rate.
Thales Booth LIVE Sessions
Attend our LIVE Sessions. Learn more about the latest trends in Cloud Key Management, CIAM, Quantum Resistant Crypto, Secrets Management and many more.
Tuesday, April 25
10:30AM to 4:00PM PT
Wednesday, April 26
10:20AM to 4:00PM PT
Thursday, April 27
10:20AM to 2:00PM PT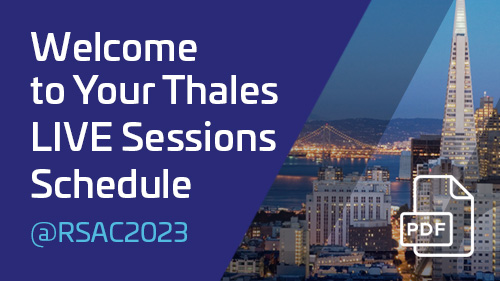 Live Sessions Schedule
Come claim your FIDO token after the session and
Go Passwordless with Thales!

Sessions will run every 20/30 minutes.
Attendees to these sessions will be entered into a raffle. Winners will be announced through out the day.
We look forward to seeing you at RSA Conference 2023
Need a FREE expo pass? Register with 54STHALESXP
Expo Hours:
Monday, April 24 | 5:00 PM - 7:00 PM PT
Tuesday, April 25 | 10:00 AM - 6:00 PM PT
Wednesday, April 26 | 10:00 AM - 6:00 PM PT
Thursday, April 27 | 10:00 AM - 3:00 PM PT

Any questions? Don't hesitate to contact us.