Data Security for a Zero Trust World
Organizations are adopting cloud services while making the most of existing IT infrastructures. They are also adapting to the challenges of a hybrid or remote workforce. This means the notion of a defined security perimeter is increasingly difficult to enforce. To operate securely in today's mobile and cloud-first world, organizations must protect their data and control who has access to it.
Thales is a global leader in data protection, access management and authentication. We help the world's most trusted organizations simplify security for the cloud, achieve regulatory compliance, and reduce risk. Our solutions to Discover, Protect, and Control sensitive data enable organizations to modernize data security for a zero trust world. You can rely on Thales to help you discover, protect and control access to your sensitive data wherever it is - from the cloud and data centers and across networks.
Discover – Find and Classify Your Data Wherever it Resides
Less than one-quarter of organizations know where all of their data is stored. Data security and regulatory compliance starts with finding and protecting sensitive data before hackers do. This can be complex because data can be in many forms and reside in many places – on-premises, in the cloud and in back-ups. Our advanced data discovery and classification services enable businesses, organizations and governments worldwide to identify where their data is located, classify it by risk and automatically apply robust security measures.
Protect – Secure Sensitive Data at Rest, In Motion and In Use
Sixty percent of organizations have been breached at least once in their history. This is increasingly serious as nearly all organizations now store sensitive data in the cloud and use digital technologies. Surprisingly, less than 30% of companies have deployed encryption to protect data in digital transformation environments. Our modern data security solutions allow organizations to protect all types of sensitive data across a variety of data stores, platforms, and IT environments. With our integrated encryption, key management and hardware security module (HSM) solutions, organizations can simplify data protection and reduce operational complexity while remaining in control of their data wherever it resides – across the cloud, data centers, networks and hybrid IT environments.
Control – Simplify and Automate Access to Sensitive Data
Nearly half (46%) of organizations think that protecting data and privacy in the cloud is more complex. That complexity only grows as more cloud platforms, services, users and environments are added. Our access management, authentication and single sign-on solutions help organizations reduce the risk of breach by enabling simple, secure, zero-trust access to all your applications, while our centralized key management solutions streamline control across multiple on-premises and cloud systems enabling organizations to apply the right security control for sensitive data in virtually any situation. You can rely on Thales to help your organization secure and control access for all data, any application, for any user, anywhere - and deliver on compliance mandates.
Global Edition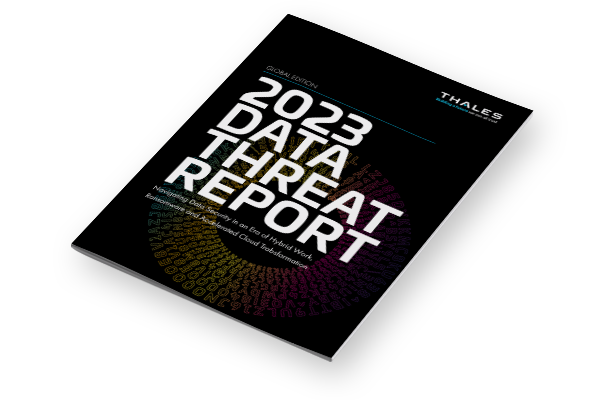 2023 Thales Data Threat Report
Read more about the latest data security threats and trends
Get Your Copy Today
Our Authentication, Access Management
and Data Protection Solutions

See the Advantage of the Thales Accelerate Partner Network
500+
Technology Integrations