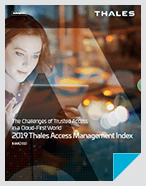 2019 Access Management Index - Report
The 2019 Access Management Index is a survey of 1,050 executives in 11 countries with responsibility for, or influence over, IT and data security. These respondents represented a number of different countries, sectors and organization sizes.
This research reveals key finds within Access Management including:
49% of businesses believe cloud applications make them a target for cyber-attacks
94% of organizations' security policies have been influenced around access management are influenced by consumer breaches in the last 12 months
62% of companies continue to operate without a CISO despite increased cybersecurity awareness
And more!
Discover additional findings within our 2019 Access Management Index, download our report now!