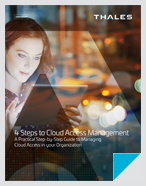 4 Steps to Cloud Access Management - eBook
Cloud Access Challenges in the Enterprise
Leveraging cloud-based applications comes with challenges. As organizations embrace cloud apps for their quick time to value and best of breed technology, they are faced with increasing management and usage complexities. Learn how:
Single Sign-on helps IT and users
Validating identities ensures secure access
Frictionless cloud access compliance can be easy
Start your journey to address enterprise cloud access with our 4 Steps to Cloud Access Management Guide Book.