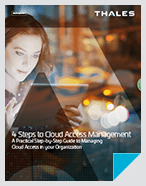 Worried about cloud security? Learn 4 easy steps to full cloud access management - White Paper
As enterprises embrace more and more cloud-based applications, they encounter management complexities, inefficiencies and password fatigue. By following 4 easy steps, organizations can gain full cloud access control:
Simplify user access with cloud single sign-on (SSO)
Protect identities with granular access policies
Optimize policies with data-driven insights
Ensure scalability of your cloud estate using industry standards
Learn more about the 4 steps to Cloud Access Management today, download our Guide Book!