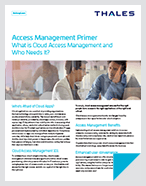 Access Management Primer - Fact Sheet
What is Cloud Access Management and Who Needs It?
Cloud applications are excellent at providing organizations the best technology at a quick time to value, zero maintenance overhead and infinite scalability.
Cloud application value brings:
IT visibility loss into application management. Who is accessing what application, when—and what authentication method is being used?
Compliance risk increases as apps are managed from multiple disparate consoles
Help desk tickets are asked to reset passwords and the end user suffers from password fatigue, frustration and downtime as they fret to keep their copious identities in order.
Cloud access management solutions streamline cloud access provisioning, eliminate password hassles, provide a single pane view of access events, and ensure that the right access controls are applied at the right time to the right user.
Discover how cloud access management solves the challenges faced by enterprises in their quest for broader cloud adoption. Start your cloud access management strategy with our Access Management Primer.