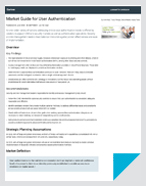 Gartner's Market Guide for User Authentication - Report
With a variety of user authentication solutions offered in IAM and security markets, leading analyst firm Gartner provides practical guidance on choosing a multi-factor authentication (MFA) platform that's right for you.
According to Gartner's latest market guide, when evaluating multi-factor solutions IT leaders should seek to strike a balance between innovation against proven effectiveness and ease of implementation. Rapid adoption of cloud services drives investment in multi-factor authentication and other cloud security platforms. Get the guide to learn:
How access management (AM) vendors are displacing incumbent authentication vendors
Why passwordless authentication popularity continues to increase
What are the best IAM recommendations to mitigate risk
Gartner's list of user authentication vendors
Discover how user authentication relates to other identity approaches, get Gartner's Market Guide for User Authentication.