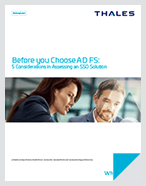 Before you Choose AD FS: 5 Considerations in Assessing an SSO Solution - White Paper
While Microsoft's Active Directory Federation Services (AD FS) is available free of charge as a downloadable toolkit for Microsoft Windows Servers' Active Directory, a deeper look raises several critical questions regarding implementation of a Cloud Single Sign On solution. These include:
Cost: How do you calculate the total hard and soft costs of a solution?
Authentication: Does it offer multi-factor and contextual authentication methods?
Automation: What workflow automation does it offer for integrating new apps?
Availability: How does it handle failover and backup?
Security: Does it comply with organizational security policies?
Discover where Thales SafeNet Trusted Access can complement or substitute AD FS to best meet your business and security needs. Get the White Paper today!