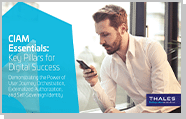 CIAM Essentials: Key Pillars for Digital Success - eBook
Operating in an increasingly challenging digital landscape, organizations must maintain a delicate balance between user experience, security, and privacy in every interaction. Customer Identity & Access Management (CIAM) plays a key role in this narrative – and this eBook explores exactly how.
Discover the key technologies, frameworks, and best practices that will enable you to:
Effortlessly streamline customer onboarding and user journeys
Simplify and secure user access to digital services
Empower individuals to be in control of their own data
Strike the perfect balance between user experience and security
And ultimately, foster customer trust and loyalty in every interaction
Equip your organization with the CIAM insights it needs to thrive in the digital era.