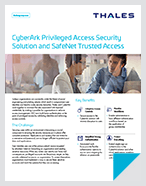 CyberArk Privileged Access Security Solution and SafeNet Trusted Access - Solution Brief
Today's organizations are constantly under the threat of social engineering and phishing attacks which result in compromised user identities and lead to costly security breaches. Thales and CyberArk work together to minimize the risks associated with hijacked credentials, by making it possible for organizations to enforce access management, SSO and multi-factor authentication at the point of privileged access by validating identities and enforcing access controls.
This brief describes how Thales Identity and Access Management Solutions enhance the Privileged Access Security Solution from CyberArk.
Download