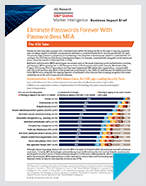 Eliminate Passwords Forever With Passwordless MFA - 451 Research Report
Passwords have long been a popular form of authentication within the enterprise. But in the realm of security, popularity does not always equate to strength.
The security flaws inherent in passwords are manifesting in the rising tide of data breaches related to credential theft.

According to the 2020 Verizon Data Breach Investigations Report, for example, credential theft, along with social attacks and errors, cause the majority of breaches (67% or more).

Have a look at the research report and see for yourself - why going passwordless is the future of security.