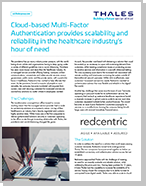 How cloud-based Multi-Factor Authentication helped Redcentric address healthcare data security challenges during the pandemic
The pandemic has put every industry under pressure, with the world being driven online and organizations having to keep going under a variety of different guidelines due to social distancing. Nowhere has seen more impact and strain than the healthcare industry.
As a managed service provider offering hosting, compute, unified communications, connectivity and cyber security services across government, public sector and the private sector, with a particular focus in healthcare, Redcentric has worked to help alleviate that strain. As the pandemic forced a majority of people to work remotely, the company became inundated with requests from current, new and returning customers for increased and secure connectivity solutions no matter where its employees worked.
Download