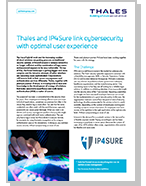 Thales and IP4Sure link cybersecurity with optimal user experience - Case Study
Thales, together with platinum partner IP4Sure, is investing a lot of time and knowledge in the development of a range of solutions that make passwords superfluous and multi-factor authentication (MFA) a matter of course.
The rise of hybrid work and the increasing number of cloud solutions are putting pressure on traditional security policies. A firewall around a campus network is no longer sufficient and the combination of login name and password appears to be very vulnerable. On top of that, the threat landscape is getting bigger and more complex and the intrusion attempts of cyber attackers are becoming more sophisticated. Organizations will have to look at their access management and authentication services differently. 
Download