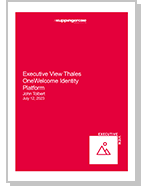 KuppingerCole Executive View 2023: Thales OneWelcome Identity Platform
This KuppingerCole Executive View looks at the Consumer Identity and Access Market and the key capabilities of vendors in this space. A technical review of the Thales OneWelcome Identity Platform is included.
The Thales OneWelcome Identity Platform provides foundational IAM capabilities enhanced with Identity Apps to fulfill the needs of specific scenarios for different user groups like Workforce, Consumers, Business or Gig-workers for different verticals like Banking, Insurance, Manufacturing and more. The OneWelcome Identity Platform is composed of the following modules: the Identity and Access Core, User Journey Orchestration, Delegated User Management, Externalized Authorization, Consent and Preference Management, Mobile Identity and Identity Broker. The solution is a multi-tenant SaaS hosted in two public IaaS providers, leveraging multiple data centers for high availability and scalability.