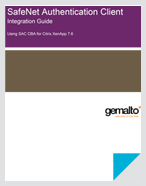 SafeNet Authentication Client Using SAC CBA for Citrix XenApp 7.6 - Integration Guide
Customers today are looking to desktop virtualization to transform static desktops into dynamic mobile workspaces that can be centrally and securely managed from the datacenter, and accessed across a wide range of devices and locations. Deploying desktop virtualization without strong authentication is like putting your sensitive data in a vault (the datacenter), and leaving the key (user password) under the door mat. A robust user authentication solution is required to screen access and provide proof-positive assurance that only authorized users are allowed access.
XenApp is the industry-leading solution for virtual application delivery, providing Windows applications to workers on any device, anywhere. By centralizing control with XenApp, you can provide your team the freedom of mobility, while increasing security and reducing IT costs. This document provides guidelines for deploying certificate-based authentication (CBA) for user authentication to Citrix XenApp 7.6 using SafeNet tokens.
Download