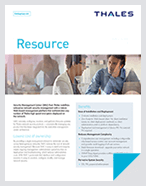 SafeNet KeySecure k460 with Brocade Encryption Solutions - Integration Guide
Brocade®, NetApp®, and SafeNet® have combined forces to provide a robust and scalable encryption solution with an
enterprise-class key management solution—SafeNet KeySecure™. KeySecure offers a hardened OS, a tamperresistant
chassis, multifactor authentication, and dual-person control of critical operations to ensure complete
security of encryption keys. This paper explores how the Brocade encryption solutions leverage many of the features
of KeySecure to deliver the most secure Fibre Channel (FC) encryption solution on the market.
Download