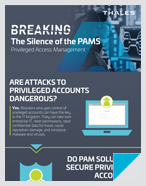 The Silence of the PAMS - Infographic
ARE ATTACKS TO PRIVILEGED ACCOUNTS DANGEROUS?
Yes. Attackers who gain control of privileged accounts can have the key to the IT kingdom. They can take over enterprise IT, reset permissions, steal confidential data for fraud, cause reputation damage, and introduce malware and viruses.
Download