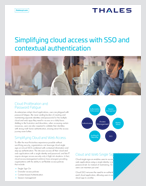 Simplifying cloud access with SSO and contextual authentication - Fact Sheet
As enterprises adopt cloud applications, Single Sign On (SSO) is becoming very popular. As users are plagued with password fatigue, the never-ending burden of creating and maintaining separate identities and passwords for the multiple cloud and web apps they need to access on a daily basis.

Adding to the frustration and downtime, when accessing certain resources, users are also required to validate their identities with strong multi-factor authentication, slowing down the access journey even further.

Discover how SSO and contextual authentication can help speed up that process.