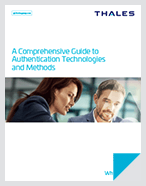 A Comprehensive Guide to Authentication Technologies and Methods - White Paper
Authentication solutions need to be frictionless. There are a variety of authentication methods that allow organizations to employ standards-based, pluggable authentication solutions based on mission need. Stronger authentication, adopting methods with a higher Authentication Assurance Level, can effectively reduce the risk of attacks.
Select your authentication method by first understanding authentication technologies, learn:
Methods of authentication

Classes of attacks

Analysis of authentication mechanisms
Understanding these key considerations, you can be confident in your authentication solution strategy.