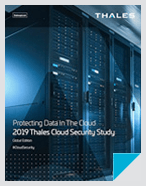 2019 Thales Global Cloud Security Study - Report
Download your copy of the report to learn about these key findings and more:
48% of all corporate data is stored in the cloud.
49% of organizations are encrypting sensitive data in the cloud.
Only 30% of organizations have a unified approach for securing access to both cloud and on-premise applications.
In this latest research report from Thales and the Ponemon Institute, you'll learn about the disparity between the rapid growth of data being stored in the cloud, and how organizations are protecting sensitive information. See what more than 3,300 IT and security leaders from eight countries had to say about the state of cloud security and receive key takeaways to consider as you build your organization's cloud security strategy.