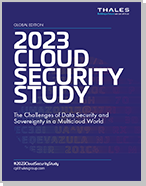 2023 Thales Cloud Security Study - Global Edition
The Challenges of Data Security and Sovereignty in a Multicloud World
The study results point to a set of challenges that organizations are facing in securing data in the cloud environments. They're living in a multicloud world and need to be able to secure it effectively and efficiently. They need to overcome the complexity that working across cloud infrastructure and SaaS environments presents. Data protection in the cloud must become simpler to manage to overcome issues with human error and misconfiguration.

The results of the study indicate specific areas that need improvement:
Key management consolidation.
Greater use of data encryption.
Gaining control of encryption keys.
Achieving great efficiency through security automation.
Get your copy of the full global report today and read more about the latest challenges of data security and sovereignty in a multicloud world.