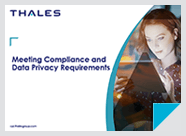 Data Security Compliance and Regulations - eBook
Organizations are struggling to comply with multiple global and regional security and privacy regulations, such as GDPR, PCI-DSS, HIPAA. These compliance regulations are constantly evolving to address the advanced security threats and increasing number of data breaches.
This ebook shows how Thales data protection solutions enable you to meet common compliance and data privacy requirements across traditional and next generation platforms.