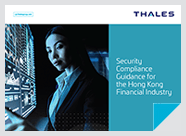 Security Compliance Guidance for the Hong Kong Financial Industry - eBook
To provide regulations for the financial services sector, Hong Kong offers a sound regulatory framework through the central banking institution, the Hong Kong Monetary Authority (HKMA). The HKMA implemented the Cybersecurity Fortification Initiative (CFI) in December 2016, with a goal to raise cyber resilience of Hong Kong's banking sector.
Thales understands its role as a digital security provider to enable customers to comply with financial-specific regulatory requirements in Hong Kong.
This guide aims to enable readers to understand the regulatory mandates, and how the financial sector can comply with regulations.