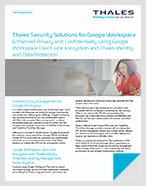 Thales Security Solutions for Google Workspace - Solution Brief
Google recommends that Google Workspace customers adopt the industry-standard and increasingly well-known shared responsibility model by using an external Identity Provider (IDP) and key manager (EKM) to ensure that only authorized and authenticated individuals can access protected documents. Only Thales develops an independent IDP and EKM solution.
Thales's SafeNet Trusted Access (STA) used with CipherTrust Cloud Key Manager provides customers with an independent IDP and key management solution from a single vendor, helping you achieve your business goals with a smoother deployment, superior user experience and better value.
Download