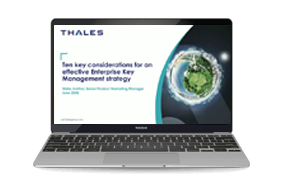 10 Key Considerations for an Effective Key Management Strategy-Webinar
With more cryptographic keys to protect, more value in the data being protected by those keys, and proliferating compliance requirements, including GDPR, PCI-DSS, and many other regulations and standards, nearly every business urgently needs to address key management.
An effective key management strategy should take a centralized approach to secure various types of data in different environments, combined with the management and maintenance of keys and crypto resources being utilized.
Join Nisha Amthul, Product Marketing Manager of Thales CPL for a "Coffee Break" discussion to understand the best practices for developing a centralised approach to encryption key management, and learn how Thales' next generation key management platform can help you implement an enterprise-wide key management solution that can simplify operational complexity and minimize overall risks.
Watch On Demand