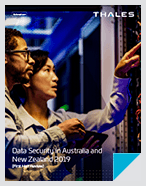 Data Security in Australia and New Zealand 2019 (First Half Review) - Report
Businesses in Australia and New Zealand (A/NZ) are innovating rapidly by evolving their business models to remain competitive. At the heart of this evolution is the explosive proliferation of sensitive data that is created, collected and shared. At the same time, cybercriminals are looking at all this data as a gold mine for them to monetise! So how can businesses in APAC adapt to these changes safely? To find this out, dice into our market research on the state of data security in the A/ NZ region. Learn about:
Cybersecurity Adoption Trends
Cybersecurity Teams & Policies
Data Breach Policies
Recommendations for Addressing Data Protection
And more!
Learn more on how you can adapt to the latest security changes safely.