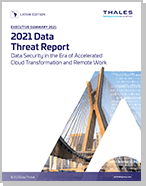 2021 Data Threat Report - LATAM Edition - Report
The COVID-19 pandemic has had an immediate and dramatic impact on IT teams around the globe, and its long-term effects are still evolving. The Latin American (LATAM) edition of the 2021 Thales Data Threat Report looks at different aspects of those impacts in a wide-ranging survey of security professionals and executive leadership. Within this executive report, we dive in to understand how LATAM has tackled the threats resulting from the pandemic along with stakeholders' feelings about various aspects of data security.
The 2021 Thales Data Threat Report is based on a survey of more than 2,600 security professionals and executive leaders, including 200 in LATAM.