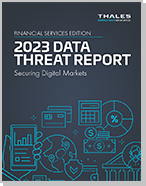 2023 Thales Data Threat Report - Financial Services Edition
The security challenges faced by financial services organizations cannot be overstated. As the managers and custodians of financial assets and related sensitive data, these organizations are under constant attack from bad actors and receive increasing scrutiny from regulators, while trying to address customer and competitive demands for greater digital access. 
The latest Financial Services Edition of the Thales Data Threat Report explores the perspectives of 140 financial services (FiServ) respondents in 18 countries regarding their understanding of the evolving security threat landscape, and challenges and strategies for protecting data, whether in the cloud, on-premises or across hybrid environments.