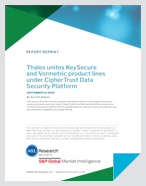 451 Research Highlights Thales's New CipherTrust Data Security Platform - Report
451 Research examines Thales's next-generation data protection platform to discover, protect and control sensitive data on a single platform.
Uniting KeySecure and Vormetric product lines, CipherTrust Data Security Platform combines the strengths of both encryption and key management into a single offering. Simplifying the delivery of data security with a broad data security portfolio bringing together:
encryption (application, database, server, file)
vaulted and vaultless tokenization
masking
key management
cloud key management
and, data discovery.
The Data Security Platform offers a migration path for both SafeNet and Vormetric customers, who will not have to update any agent software, and also support both on-premises and cloud resources.
Simplify data security and key management. Learn how in 451's Report!