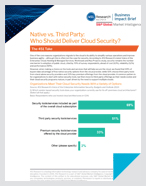 451 Research Business Impact Brief "Native vs. Third Party: Who Should Deliver Cloud Security?" - Analyst Report
One of the core reasons organizations migrate to the cloud is its ability to simplify various operations and improve business agility – although this is often not the case for security. According to 451 Research's latest Voice of the Enterprise: Cloud, Hosting & Managed Services, Workloads and Key Projects study, security remains the number one barrier to adoption of public cloud ahead of cost, reliability and performance.
The brief highlights the following takeaways –
Protecting sensitive data takes on even greater importance in the cloud than in the old perimeter-based world, despite the perception that each customer's data is inside a secure 'black box'
Many organizations start with native security tools, but then move to third-party offerings as their needs evolve and their cloud security programs mature
Cloud Security must span multicloud and hybrid environments and third-part security vendors that can centralize and orchestrate key management across clouds can help organizations reduce complexity
Explore how organizations like yours can gain operational efficiency, compliance, and security by centrally managing keys across multiple cloud platforms with CipherTrust Data Security Platform.