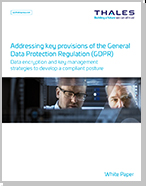 Addressing Key Provisions Of The General Data Protection Regulation (GDPR) - White Paper
Through the General Data Protection Regulation (GDPR) the European Commission intends to strengthen and unify data protection for individuals within the European Union (EU).
The Commission's primary objectives for the GDPR are to return to citizens control of their personal data.
The regulation imposes a strict data protection compliance regime with severe penalties of "up to 20,000,000 EUR, or in the case of an undertaking, up to 4% of the total worldwide annual turnover of the preceding financial year, whichever is higher."
In this white paper you will learn about:
GDPR Requirements and penalties
GDPR Compliant data protection strategy
Historical approach to encryption and key management for data at rest
CipherTrust Data Security Platform – One-stop data at rest security
Complete this form to download the white paper now.