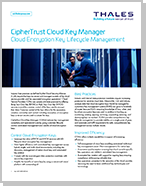 CipherTrust Cloud Key Management - Product Brief
Amplify the benefits of your native keys. CipherTrust Cloud Key Management (CCKM) respects your choice to use native keys, while providing the opportunity to expand your key ownership models to include BYOK and HYOK. CCKM centralizes key management for Native, BYOK and HYOK cloud keys from a single browser window, across multiple clouds, regions, accounts, subscriptions, projects, applications, org ids and more.
Automated synchronization ensures that cloud console-specific key operations are visible in centralized key management – even if you have already created thousands of native cloud keys at your cloud provider. Automated key rotation. Synchronized metadata layout across cloud providers.
Download