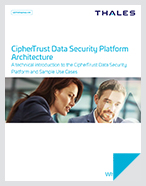 CipherTrust Data Security Platform – White Paper
To meet the scale of current and future data security threats, evolving global and regional privacy regulations, and cloud adoption brought on by remote working, organizations need an easier and unified approach to discover, protect and control their sensitive data.
Thales has pushed the innovation envelope with its new CipherTrust Data Security Platform to remove complexity from data security, accelerate time to compliance, and secure cloud migrations. This next-generation platform unifies data discovery, classification and data protection, as well as unprecedented access controls with centralized key management – all on a single platform. This results in less resources dedicated to data security operations, ubiquitous compliance controls, and significantly less risk across your business. Details on the platform's architecture, and how it helps maximize the security of sensitive assets, while minimizing total cost of ownership. 
Want to read more? We offer detailed architecture white papers for many of the products covered in this document.