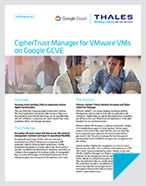 CipherTrust Manager for VMware VMs on Google GCVE - Solution Brief
VMware vSphere®, is an industry-leading virtualization platform that empowers users to scale-up and scale-out applications with confidence. vSphere helps you get the best performance, availability, and efficiency from your infrastructure and applications. It's the ideal foundation for any cloud environment.
VMware vSphere VM Encryption is a feature introduced in vSphere 6.5 to enable the encryption of virtual machines. VM Encryption protects virtual machine files, virtual disk files, and core dump files by encrypting the input/output from the virtual machine before it gets stored in disk. The solution leverages the Key Management Interoperability Protocol (KMIP) for encryption key management and key vaulting.
Download