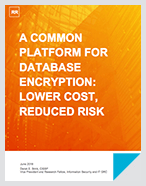 A Common Platform For Database Encryption: Lower Cost, Reduced Risk - White Paper
Most enterprises rely on a diverse database infrastructure to meet specific business objectives, but this complexity increases risk and costs. With databases housing our most sensitive and highly regulated information, organizations need better database security strategies.
Download this report from Aberdeen, which compares using a common platform for database encryption with native database encryption capabilities. Based on in-depth surveys of enterprise database security professionals, this research reveals how a common platform can deliver significantly lower cost and reduced risk.