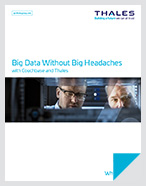 Big Data Without Big Headaches with Couchbase and Thales - White Paper
Big Data is poised to revolutionize virtually every industry today. With a population of 3 billion users online around the world and approximately 35 billion hours spent online every month, the sheer amount of data available on usage trends is staggering. As the trend toward the Internet of Things continues to emerge, still more vital information will become available.
In this paper, we will examine issues that should be considered during the adoption of Big Data. Then we'll look at the growth of the NoSQL database to handle Big Data-specific problems, and at how Couchbase provides a solution. Finally, we will consider the need for security to complete a Couchbase deployment, with the industry leading CipherTrust Data Security Platform offering from Thales.