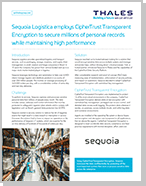 Sequoia Logistica employs CipherTrust Transparent Encryption to secure millions of personal records while maintaining high performance - Case Study
Sequoia Logistica provides specialized logistics and transport services, such as packaging, storage, inventory, and supply chain management, to small, medium and large companies in Brazil. In 12 years the company has grown from venture-funded start-up to a major stock-market-traded player in logistics.
The CipherTrust Platform improved Sequoia's data security posture and reduced the risk of a data breach by protecting all the most important systems that store or process sensitive data across the enterprise.
Download