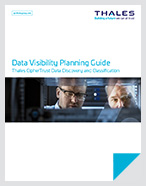 Data Visibility Planning Guide - White Paper
Organizations like yours create data at unprecedented rates, all the time, and in various locations including local storage, data lakes, and increasingly in public clouds. To protect data and comply with data protection and privacy requirements, you need visibility into the data you are collecting and storing to determine what data is sensitive and what is not.
Thales CipherTrust Data Discovery and Classification enables you to get a clear understanding of what sensitive data you have, where it is located, and its risk of exposure. With complete visibility, you can easily uncover and close your gaps, make better decisions about third-party data sharing and cloud migration, and proactively respond to data privacy and security regulations including GDPR, CCPA, PCI DSS, and HIPAA.
In this guide, we cover the following key aspects of defining a data visibility and classification strategy:
Providing guidance on orchestrating the data discovery and classification planning in your organization
Identifying what sensitive data your organization has, where it is, and how it relates to data privacy regulations
Understanding and defining data sensitivity levels as part of an impact analysis exercise
Providing guidance on the remediation process
Identifying the main roles and responsibilities related with this process