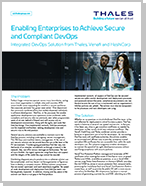 Simplifying DevOps Security with Thales, Venafi & HashiCorp - Solution Brief
In today's fast-paced business environment organizations must streamline software development as new applications and software updates are an everyday task. Enterprise-class code development has evolved on two fronts to handle this volume: Globally dispersed development teams; and DevOps tools that include the Agile process.
While this paradigm shift enabled organizations to keep up with growing and quickening business needs, at the same time it can expose a company to security risks. From development through deployment, code sections and full applications (micro-services) have to pass between contributors that could be geographically distant. Without strong security that maintains a Root of Trust, data protection cannot be ensured.
Download