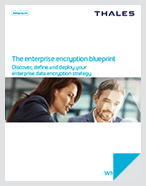 The Enterprise Encryption Blueprint - White Paper
You've been tasked with setting and implementing an enterprise wide encryption strategy, one that will be used to guide and align each Line of Business, Application Owner, Database Administrator and Developer toward achieving the goals and security requirements that you define and set forth as the model for your organization. A daunting task, for sure, but one that is certainly very achievable.
Download this white paper to be set in the right direction to discover, define and deploy the enterprise data encryption strategy that is best for your organization.