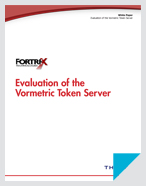 Fortrex: Evaluation Of The Vormetric Token Server - White Paper
Fortrex: Evaluation of the Vormetric Token Server
Since 1997, Fortrex Technologies has served as a trusted security and risk management advisor to its clients throughout the world. Fortrex focuses exclusively on IT security, operational risk and regulatory compliance and helps organizations throughout the world identify, assess, remediate and manage their operational risks through consulting, audit, vendor management and human capital assistance. By providing expert technical assessments, Fortrex ensures the confidentiality, integrity and availability of data and systems through world-class, enterprise-wide information security services and solutions. Powered by a team of security and risk management experts and the industry's leading technology, Fortrex's in-depth risk assessments and solutions ensure that its clients' information assets remain safe and secure.
Fortrex Qualified Security Assessor (QSA) evaluated the Vormetric Token Server, and determined when properly implemented and configured within a secured cardholder environment, it can reduce the scope of the systems included in the scope of a PCI DSS assessment. They also qualified that the solution can be leveraged to tokenize other sensitive data within a corporate environment.
Fortrex detailed their evaluation process in their white paper, Evaluation of the Vormetric Token Server.