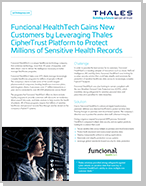 Funcional HealthTech Gains New Customers by Leveraging Thales CipherTrust Platform to Protect Millions of Sensitive Health Records - Case Study
Funcional HealthTech is a unique healthcare technology company that combines technology, more than 20 years of expertise, and data-driven care to deliver the intelligence necessary to better manage healthcare programs.
Thales CipherTrust Platform automated and simplified protection across for multiple environments including Amazon Web Services (AWS), Microsoft Azure and Google Cloud, without performance impact and helping the customer achieve quick time-to-compliance.
These safeguards were key in Funcional HealthTech's ability to close multiple new customer deals.
Download