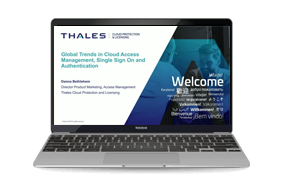 Global Trends in Cloud Access Management, Single Sign On and Authentication - Webinar
The explosion of cloud applications and identities have set IT decision makers on a quest for reconciling the benefits of the cloud with the security and compliance requirements needs of the enterprise. Much like the user experience offered by mainstream consumer applications, cloud access management solutions have emerged to address the multi-faceted challenges of the new zero trust enterprise network. With cloud applications now a crucial part of day-to-day business operations, the 2019 Thales Access Management Index found that almost half (49%) of IT security professionals believe cloud applications make them a target for cyber-attacks. Cloud applications are listed in the top three reasons an organization might be attacked, just behind unprotected infrastructure such as IoT devices (54%) and web portals (50%).
This webinar will review the findings of the Thales global report and how organizations around the world are approaching cloud security and the technologies they are using to secure employee access to cloud services.
Specifically, in this webinar attendees will learn:
What are the major attack vectors for cyber attacks
Which access management technologies organizations are deploying to secure access to the cloud
Which access management technologies IT professionals deem the most effective in securing access to the cloud
The criteria IT professionals use to determine access policies for users
Who are the internal stakeholders involved in Access Management deployments
Watch Now