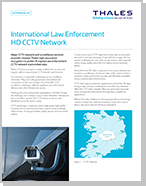 International Law Enforcement HD CCTV Network - Case Study
Thales CN Series encryptors enable certified data security and integrity without compromising CCTV network's performance.
Our customer is a specialist in delivering secure surveillance information. They work with governments and multinational corporations on the most complex and critical HD CCTV surveillance challenges within the regulatory, law enforcement, defence and critical infrastructure sectors.
Download