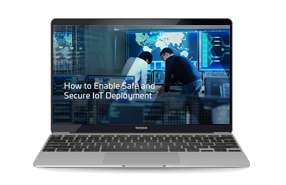 How to Enable Safe and Secure IoT Deployment- Webinar
Security is crucial to the sustainable growth of the Internet of Things (IoT). The IoT industry has been investing heavily on various technology to facilitate and accelerate the safety and security aspects of IoT development. This allows IoT stakeholders, who include the hardware and software developers, IoT service providers and end-users, to capture and leverage the vast business opportunities from the connectable devices and collected data. This presentation explains how Thales addresses the three major business concerns in IoT:

1) Risk mitigation through minimizing counterfeits products from entering the systems, preventing illegal copy or tampering of hardware/software, and eliminating the possibility of malware injection into the system,
2) Attaining various regulatory compliance mandates
3) Enabling sustainable operation through continual validated support and recurring revenue.
Watch On Demand