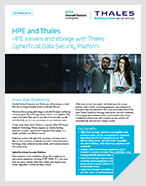 HPE Servers & Storage CipherTrust Data Security Platform - Solution Brief
Thales is a member of the HPE Partner Ready for Technology Partner program, an industry-leading approach to supply sophisticated integrated technologies in a simple, confident, and efficient manner. 

We've developed a CipherTrust Data Security Platform to help HPE accelerate innovation and achieve their business needs.
Benefits of using CipherTrust Manager are:
Centralizes and simplifies data protection policy
Multiple CipherTrust Manager appliances can be clustered
Supports segmented key ownership
Available in virtual, physical, and FIPS 140-2
Explore more about CipherTrust Data Security Platform in this Solution Brief.
Download